FFA Competes at SubDistrict
Carr FFA participated in the Subdistrict Contest on Tuesday, December 12, 2017. The event was hosted by Bozeman FFA. Members competed in Creed, Opening and Closing Ceremonies, Parliamentary Procedure, and Prepared Public Speaking. The primary goal of these leadership development events is to develop individual responsibilities, foster teamwork and promote communication while recognizing the value of ethical competition and individual achievement. The Parliamentary Procedure Team and Prepared Public Speaker Carleigh Mayo will compete at the district contest on January 19, 2018. Congratulations to these members and best wishes on the upcoming competition!
Creed-3rd Place
Mitchell Mayo
The Opening and Closing Ceremonies-2nd Place
Carly McWaters
Emma Page
Kyler Kirkland
Lacey Pace
Morgan McDougald
Carleigh Mayo
Cayson Chapman
Parliamentary Procedure-1st Place
Jenna Enfinger
Emma Page
Lacey Pace
Hunter Morse
Carly McWaters
Alexis Sims
Prepared Public Speaking-1st Place
Carleigh Mayo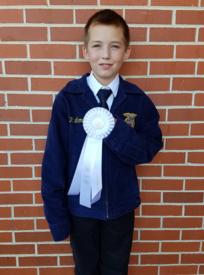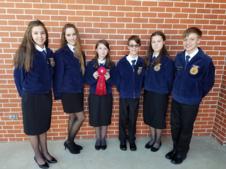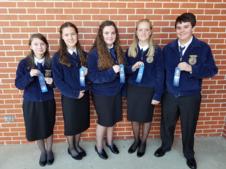 Carleigh Mayo Speaks at Florida Forestry Association Annual Meeting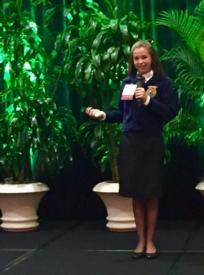 After competing at the State FFA convention in June in Prepared Public Speaking, Carr FFA member Carleigh Mayo was invited to attend the annual Florida Forestry Association Meeting in Destin and give her speech. Carleigh spoke about forestry's impact on Calhoun County and the state at the Awards Breakfast. She is an eighth grade student at Carr Middle School.
Picture 1 Carleigh Mayo
Picture 2
Shown are L-R: Bill and Donna Mayo, Carleigh, and Lynetta Usher Griner
Mrs. Griner served as president of the Florida Forestry Association from 2012-2014 and currently serves on the Executive Committee
for the Association.